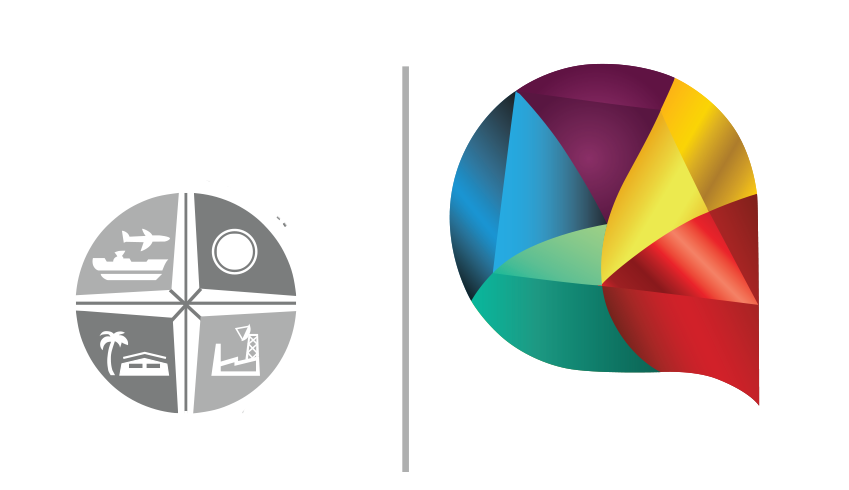 GBPA 2018 Small Business Fair & Expo
Thursday, June 28th, 2018
10:00 a.m. – 6:00 p.m.
Canal House at Pelican Bay Resort
Register Now for ArtLucaya: The Grand Bahama Art Festival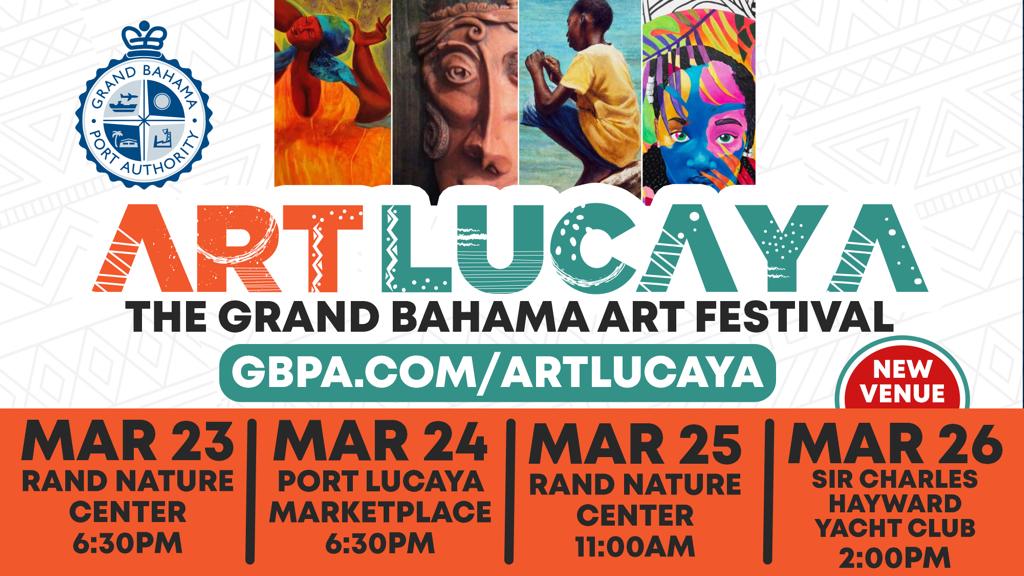 "My life experiences inspire my Art. I am a storyteller. My inspiration comes from my desire to tell the story of Bahamians. Good Art tells the story of its people, it is an historical footprint for future generations."
Matthew Wildgoose is a Portrait Artist who uses his creative platform to capture the images of memorable people who have made an indelible mark on culture. His steely, bold images are crafted with interesting brush strokes that are so life-like, his subjects appear to be bursting off of the canvas.
Born and raised in Freeport, Grand Bahama, Matthew became aware of his gift and love for art at the age of thirteen, when he found himself less focused on his school work and more consumed with the images he sketched in his notepad.
"I am Art and Art is me."
After graduating from The College of The Bahamas with a degree in Art in 2008, Matthew spent some years further developing his talent. He decided to become a full time professional Artist in 2013 and his artistic style has made him a recognized talent in the Bahamian art community and has cemented his reputation as an accomplished Artist of his generation. A champion for Bahamian Art and Culture, Matthew has hosted successful art exhibitions in both New Providence and Grand Bahama, showcasing his artwork to the public. His first exhibition entitled Catch Ya Self was held at the Balmoral Club in Nassau 2013-2014. In 2015, his work entitled Good, Bad, and the Ogly was showcased at The Central Bank of the Bahamas in Nassau and in 2016-2017 his work Dream Face was showcased in Atlanta Georgia and Chroma in Coconut Grove, Miami and Our Lucaya on Grand Bahama.
In 2018, Matthew launched "It Is What It Is" (IIWII) Art Gallery in the Port Lucaya Marketplace in Freeport. The fulfillment of a dream, IIWII has become a creative hub for aspiring artists, professional artists, singers, poets and art lovers on Grand Bahama, and visitors from around the world.
Becoming a proprietor of an art gallery is one of Matthew's greatest achievements, it is the catalyst he uses to share the stories he tells through his artwork with the world.
In September 2021 Matthew began teaching art at Bishop Michael Eldon School, sharing his knowledge and love for art to the future generation of artists and culture leaders.
"Art is important to the world because it tells people who they are."
Fatima-Zahra Kaboub was born in Morocco, Africa in 1976 and moved to France when she was 4 years old. She grew up in St. Remy de Provence, a lovely historic town in the heart of Provence, where the famous Renaissance Philosopher and Physician Nostradamus was born.
Her hometown Provence is famous for its incredible light and attracted many artists like, post impressionist painter Vincent Van Gogh, who lived in St. Remy de Provence, as well as Paul Gauguin and many more.  It's impossible not to be drawn and shaped by all of those colours, shapes and stories. Ever since she was a child she loved to paint anything; from furniture to pieces of wood.
She studied History of Art at the Ecole des Beaux-Arts in Paris, while working as Assistant Designer to fashion designer Michel Klein for his "Cher Michel Klein" ready-to-wear and runway collections, as well as accessories. While in Paris, she also participated in photoshoots with Karl Lagerfeld (of Chanel), Alexander McQueen and Isabella Blow. With Maxime de la Falaise (fashion Icon and mother of Yves St. Laurent muse 'LouLou'), she learnt to hand-paint furniture and clothes, and also created a gypsy skirt collection for the late Lucy Ferry. During lockdowns of Covid-19, she has learnt the new craft of making ceramic sculptures with potter Florence St. George and collage using plastic collected from the ocean.
Artist's private collection:
Title: What about us, 2020
Medium: Plastic on driftwood
Size:  30x12– 16x7,5
These 2 pieces of work were made from driftwood and plastic collected on the beach after Hurricane Dorian.
Some say by 2050, there will be more plastic in the ocean than fish. What a terrifying prospect for for children.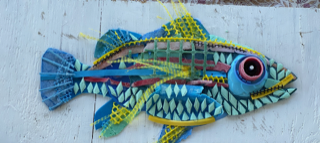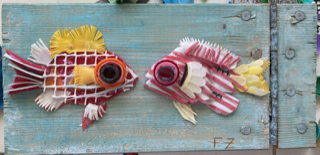 Title:  My Octopus Friend, 2021, 2022
Medium:  Ceramic, using Clay from East End, Grand Bahama
Size:  7x12 - 7,5x12 - 9x6
Dorian has taught us and it certainly taught me the importance we need to give to mother nature, how much we need to care and protect our very fragile and delicate marine life.
 The raising temperature of our oceans today is killing our corals.
The Octopus symbol represents our ability to overcome challenging situations with creativity and intelligence -
It reminds us to express ourselves even if our instincts say otherwise. And to do so in a creative way.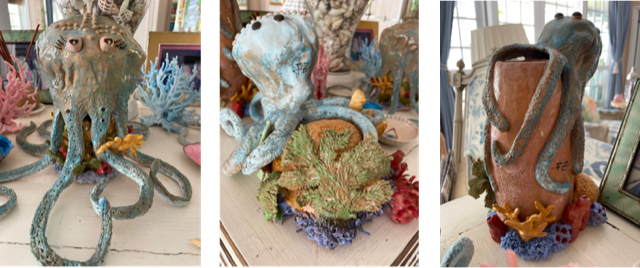 Terry Lord-Rolle is a self-taught artist, who is best known for her historical paintings. She tries to capture images of buildings throughout the Bahamas which have significant meaning to preserve them for future generations of Bahamians.
Terry is one of the founding members of the Grand Bahama Artists Association and has been painting for more than 20 years. Her medium is oil painting, and beside old historic buildings she loves to paint coconut palm trees which grow abundantly in her garden.
Terry has chosen to paint an old, abandoned building that was located on Barberry Beach here on the island. She has also painted a black and white image, which depicts a difficult time after the passing of Hurricane Dorian. The last painting is an abstract painting of the glorious sun which has brightened the island after so much turmoil.
Leo Brown was born in Nassau, Bahamas in 1969 and relocated to Freeport, Grand Bahama in 1973. Leo, a graduate of Hawksbill High School, was inspired by former Prime Minister, The Hon. Perry G. Christie to pursue his dream of becoming an artist at his high school graduation. Leo Brown became owner and manager of Leo's Art Gallery located in the Port Lucaya Marketplace in March 1993.
Leo's achievements in art took off exponentially, when by chance, meeting Lady Henrietta and the late Edward St. George, former Chairman of The Grand Bahama Port Authority. A scholarship recipient of the late, Edward St. George, Leo holds an Associate of Arts Degree in Commercial Art from The International Fine Arts College in Miami, Florida, now known as The Miami Institute of Fine Arts and Design.
Leo is known locally, nationally and worldwide for his work and paintings, some of which have been exhibited at the Port Authority Headquarters and The Central Bank of The Bahamas, Nassau. Leo's paintings are impressionistic, surrealistic, realism and abstract, each comprising a story. Most of Leo's artwork depict stories and his inspirations come from encounters with individuals, songs, books read and ultimately following his heart
My name is Melanie Darville. I have been an art educator in the Bahamas for 40 years - 10 years in Nassau and 30 years in Freeport. I have been creating art for as long as I can remember - mostly for my own enjoyment. Until recently, I was a part of the Grand Bahama Artists Association and took part in their shows.
My style of work is expressive and imaginative - sometimes realistic - and even abstract at times. I draw inspiration from nature, animals, ideas I want to explore, poetry, and my life experiences
I work in acrylics, oil, and mixed media.
Barbara F. Burrows is a beginner in the field of Art, who lives in Freeport, Grand Bahama. She attended Hawksbill Primary School in Grand Bahama where her underlying love and interest in art was initially piqued. A native of Nassau, New Providence. Barbara's colorful, and simplistic expressions, portray her inherent beliefs of allowing God to create "Beauty from ashes". Barbara's distinctive style expresses joy, peace and resilience! By contrasting harmonious colors and the delicate use of minimalism, she aims to tell visual stories. Her medium includes acrylic, soft pastels or colored pencils applied to local mahogany bark, canvas or terracotta
From my early childhood and all throughout my life, art, theater, painting and sculpting has occupied my inner being. I explored, took courses, and have been a member of the Grand Bahama Artists Association for many years during which time I have had my pieces in many exhibitions in Grand Bahama and in Nassau. I grew up as a refugee from German's north/east in Württembergt. I later studied medicine and was a young doctor for almost two years in Toronto, Canada, and years later, in Denver, Colorado. Eventually, I moved my dermatology practice back to Germany where I stayed until retirement. On a trip to Grand Bahama in 1980, my husband and I fell in love with the island and bought a small apartment in Taino Beach for family vacationing. Later we settled on a lonely beautiful beach in Freetown where we built a topsides house which so far has withstood all subsequent hurricanes -- including Dorian.

My name is Kylon Andrews and my art style is abstract primarily with a light mix of realism. I'm known for my use of bright colors and Bahamian-themed paintings. Most of my work is done with acrylic or spray paint but I use whatever gets the job done.
I've been creating art pieces ever since my childhood but didn't decide to take it seriously until 2008 in the 12th grade when I started customizing shirts.
My name is Lael Wildgoose, but my pen name is ChiFujiwaral I perfer for my name to be as hidden as possible However, the type of artwork I've been doing lately is digital. I'm usually inspired by black people, and themes revolving around nature, although, they're usually fantastical in some way!
I'm usually very imaginative in my pieces, however I still strive for improvement in my art journey.
Educated at Ravensbourne and Goldsmith's Colleges of Art in London, England and based in Freeport, Grand Bahama since 1987 I produce mostly three dimensional artwork.
Encouraged by Frederick Von Schiller's maxim:
 "If you cannot please many with your actions and art – please few.
Pleasing many is bad"
and the growing awareness of contemporary art in the Bahamas I have been able to return to creating the type of art that, while referencing previous styles, attempts to remain original.
My personal concerns are for the environment so my artwork is often related to ecological themes. Many of my works are assembled from pre-manufactured materials and objects. By combining these elements in an unfamiliar way I hope to make a greater conceptual impact and draw attention to the dilemna of maintaining a sustainable balance on the planet .
Recent work has developed from reflections of my own experiences of immigration  sparked by encounters of the recent crisis in Europe as well as regional issues.
Aesthetically I try to weave at least three strands into each piece of work:
Formal and visual relationships: the various elements of each piece and how they relate visually is very important for me.
The message of the work: the central content of the concept.
A lighter element: I try to add an art historical reference or visual pun into the mix as well - not to trivialise the process but rather to make accessible in a alternative way.
CAROLINE ANDERSON is born in Charleville in France .
She spend part of her youth in Oran, in Algeria, then moved to the French Riviera where her real love affair with the Sea started.
After attending the Beaux-Arts School in Paris  (Art Plastic), she was involved in The Factory in New York. She was also the lighting designer with a modern dance company for many years.
Her work have been sold in Galleries in Paris, San Francisco, New York.
Her jewellery ACCES-OCEAN has featured in publicity shots for Christian Dior, Helmut Lang, Christian Lacroix , Jean Paul Gaultier, Lancôme , Guerlain.
Some of her creations are a mixt with little sculptures and painting . She uses different medium like resin, metal, wood polyurethane and plexiglass.
Following the trail of the dolphins, she came to the Bahamas to study and play with those wonderful water creatures and after spending a few years in Abaco, she now lives in Freeport with her husband Tyrone.
Cathy Laing, a native of Grand Bahama was born in the picturesque settlement of Pelican Point.  She loves creating arts and craft pieces as well as oil paintings. Cathy is the 2007 recipient of a Cacique in the category of handicraft.
Cathy enjoys painting seascapes, Bahamian flowers and old homes in Oil but lost most of her paintings during Frances and Jeanne. She then focused more on Arts and crafts as she enjoys creating with her hands and there is a need for Bahamian made keepsakes, Cathy plans to do her part in revolutionizing the Bahamas souvenir industry to "Made in the Bahamas" Using the materials that are so common and that are mostly taken for granted like sand, rocks, seashells pine bark and cones..
            Cathy creates Bahamian hair clips, Christmas ornaments, desk ornaments, centerpieces, Christmas wreaths, mirrors and many other items from nature.  Resources such as shells, pine needles, pine bark, straw, rocks, sand, pine cones, sea glass are used for her creations. Trash to Treasure……People are amazed when they see the beautiful items that can be created from such simple & common resources. People love all aspects of her creations but the Bahamian inspired Christmas ornaments are always a conversation pieces and great sales items. They consist of straw, formed in a Bahamian style origami then decorated with sea shells and other accessories. She won the Christmas ornament competitions in New Providence at the Authentically Bahamian Christmas Shows many times.
            Cathy is a member of St. Matthew's Baptist Church in Pelican Point and serves as Chairman of special events there, she is also founder and chairman of the Annual Pelican Point Coconut Festival. She has been employed in the Hotel Industry in various departments including Front Office and Accounting, she has been employed in the Offshore Financial Industry as an office administrator and conference coordinator, and she was most recently employed by The Bahamas Government as a Senior Protocol Officer. Cathy is now a full time artisan and her goal is to fully consecrate on her crafts as well as her oil paintings.  Cathy's inspiration is her creator, Art is her passion and a God given gift, she operate as a cottage Industry for now but plans on opening a studio in Pelican Point soon. Like the revitalization of the settlement of Pelican Point after Dorian, this exhibition will be the resurgence of Cathy's art work. She is proud to be a member of the arts and crafts community and to contribute to Bahamian Culture.
Born and Raised in Grand Bahama. Spent many years in Canada before moving back to the island in 2008 to build start an agritourism business Ol' Freetown Farm until it was all destroyed by Hurricane Dorian in 2019. After suffering such great loss it was suggested by a therapist that I start a hobby. A friend recommended  I start painting.
So then my painting journey began. Wanting to try something different Mandala (dot art) caught my interest. I wanted to create mainly Bahamian sea life, flora and animal themed dot art as well as portraits mainly on shells, as well as ornaments, wood and canvases.
Painting brings great peace to my heart and I put my heart and soul into every piece I create. It is both therapeutic and meditative for me. So very Blessed to be able to share my God given gift.
Tatiana Christie's love for drawing emerged as a young child. Continually intrigued by artwork
that explore the weird and wacky world of the human psyche, her monochromatic illustrations
reference a cartoonish and whimsical art style.
Tatiana is a published children's picture book author and a self-proclaimed avid doodler.
In the past three years, extreme uncertainty and disorder has enveloped the world.
Extraordinary incidents heightened my awareness, yet I felt suspended in time.
I wanted clarity. I wanted understanding. I wanted a greater voice.
One day I picked up a pen and paper and little did I know, it would be the beginning of a
constant outpouring of drawings.
In each illustration were flashes of emotion, changes in perception, fleeting thoughts,
monumental ideas, and dreams that mirrored my playful soul.
I had unconsciously equipped myself with an outlet to embrace the reality of it all.
And in the quiet scratching of ink and lead at my fingertips…my voice became loud.
My collection of artworks is a piece of my journey through.
Born in New York, raised in Brazil with her home of choice being the Bahamas for the last 20 years, her vibrant abstract pieces, reflect the images and colors of a life rife with migrations and evolutions. At 11 she inherited her deceased father's oil paints and easel and although life has led her to experience various occupations from commercial modeling to goat farming it is while creating art that she is happiest.
Currently she expresses herself through non-objective mixed media work embarking on each piece randomly, making no preliminary sketches or planned lines on the canvas. This personal process mimics island hurricane life precisely ---- unplanned, allowing nature to determine the final outcome. She uses pigment and recycled found materials arbitrarily until some sort of personal definition or meaning emerges amidst the chaos. Once the connection between inner consciousness and media is established she repairs and defines non-intentional existing lines to arrive at a result that she is comfortable enough to share.
Layers of texture, expressive patterns, and reflections on island-inspired palettes flow through Paula Boyd Farrington's contemporary mixed media work and collages, blending together hand painted and digital elements.
Her work was featured in NE8, a juried exhibition at the National Art Gallery of The Bahamas, at The Sanger Gallery and Jag Gallery in Key West, Florida (Juried Small Works Exhibits 2021/2020), at Hillside House Gallery in Nassau (YIN Group Exhibit 2018), at the Ft Lauderdale Art & Design Week BahamasHaus group exhibit (2020), and at group exhibitions on Grand Bahama. Boyd Farrington's art has been published in UPPERCASE Magazine, and is featured on the covers of a series of recent coffee table photography books by Alessandro Sarno spotlighting the islands of The Bahamas.
An advocate for creativity in all walks of life, Boyd Farrington shares a love of art with her husband and daughter, and has called Grand Bahama Island home since 1987.
 Marina Gottlieb Sarles is a writer, healer, and singer, who recently discovered a new talent for painting with inks and watercolor. Her art is inspired by the grace of the natural world, with works reflecting detailed figurative elements as well as free flowing intuitive energies. The daughter of two of Grand Bahama's early pioneers (the first doctor and nurse), Gottlieb Sarles makes her home on the island along with her husband, James Sarles, and their son, Nikolai.
From I was a little girl living in Canada, I've always liked to draw and paint so I took art classes at the local library.  When we moved to the Bahamas in December of 1969, you would have found me lingering for hours at Ernie's Camera shop, since at the back of his shop, he had the only art supply area on the island at the time, where I spent my babysitting money.
Over the many years, didn't do anything, however in the past 6 – 7 years and more recently after retiring a little over 2 years ago, I've plunged into my creative 'blue hole' so to speak and simply having the time of my life. I call it having FUN.  I've always loved the ocean colors which I attempt to incorporate in all of my art work and it was simply 'a propos' for me to use this as my theme.
I'm self-taught when it comes to using epoxy resin and enjoy the challenges it presents. For my canvas I prefer to use wood, for which I've learned to handle a variety of power tools and my late husband instilled in me the safety aspect of working with these tools.
I include the following in my art pieces easily found on the beach from sand to shells to rocks to seaweed to sea glass and yes discarded rope. I also work with Paris of Plaster and acrylic paints.
However, my greatest passion blossomed in 2019, when I took a conch shell carving class at BAIC. From that point, I found a portion of my spirit that connected directly to this skill which I can only credit Mrs. April Martin the instructor who opened the door to different level of imagination.  I constantly look for shapes to carve and stretch my skills to see if I can get it done.  I've done jewelry in both the whelks and tulip conch however been adding the conch shell shapes in my artwork making them extremely unique and since I'm a retired banker of 46 years I have accumulated pennies and also incorporate them in my artwork as part of my signature.
I sell my artwork at the various farmer's market and the Rand Nature Center.  I participated for 2 days at the small business symposium held at Pelican Bay and thanks to the Port was part of the Festival Noel.
Award winning, Bahamian artist Sheldon Saint is recognized as one who captures the natural beauty and grace of the every-day-island life. For more than twenty (20) years this artist has been creating exceptional detailed works of art in Oil, Watercolor and Conté.
Sheldon has exhibited extensively in The Bahamas in group and solo exhibitions since 1995. His work was accepted for the National Art Gallery of The Bahamas Inaugural Exhibition in 2003 and the second National Exhibition in 2004.
Sheldon's work is featured in the hardcover book, Splash13, Alternative Approaches: The Best of Watercolor. "The Splash books feature artists from more than a dozen countries and Sheldon is the first Bahamian we've had in the series." says Sarah Laichas, editorial coordinator of the North Light Books' series. "Sheldon's painting is exactly the type of piece that makes the Splash books so popular with collectors, aspiring watercolorists and art instructors...'' His work has also been featured in the Watercolor artist magazine and in 2013, he held his first international exhibition in Canada. Sheldon's paintings hang in private collections in the Bahamas, the United States, the United Kingdom, Canada, The Republic of China and Trinidad and Tobago.
He is a member of the Grand Bahama Artist Association and The American Watercolor Society.
The enjoyment found while walking on the beach, swimming in the ocean, or just listening to the waves as they lap the shoreline are exquisite pleasures of life growing up in the islands of the Bahamas.
Alisa was born and raised in this beautiful paradise, and has always been fascinated with the ever changing waters, foliage, and junkanoo colours deplayed thoughout the islands.
The undulating turquoise and ultramarine blues and greens of the water, and the deceptively delicate wood roses are common in many of her paintings. The brilliant displays of colour and the effects of sunlit images near the water brings to mind paintings by Brent Malone and Auguste Renoir. Viewing their works, she has attempted to be more deliberate with the use and application of colours, as well as, attempting to incorporate more textural elements in small areas of her work.
Alisa tends to rely on her photographic skills and the ability to identify and reproduce the colours of objects she collects to be used as reference for her drawings and paintings. Alisa is a professional artist and educator, who studied at the Art Institute of Atlanta, where she received her degree in Visual Communications, with honours, and then continued her Teacher's Certificaton in Secondary Art Education at the College of the Bahamas.
Alisa is employed by the Ministry of Education for some 26 plus years, as an Art Instructor and Subject Coordinator in the Art Department. Working with so many talented young people during her teaching career has inspired her to launch and chair a youth group with the Ministry of Youth, named 'Young Artists of Grand Bahama' (YAGB).
Constantly surrounding herself with creative and innovative young people, and artists, motivates her to challenge herself and channel the creative passion she has for art. Constantly seeking out other like minded persons has led her to become a member of the Grand Bahama Artist Association, where she held the posts of president, treasurer, and secretary. She is also a member of Art Rush, Grand Bahama Shell Crafter,s and the Kiwanis Club of Freeport as Chair for Community Service.
Alisa has been involved and accepted in juried exhibitions on the island of Abaco, at the annual Abaco Beach Resort Art Festival. On New Providence island she exhibited in the WHEDO, Women's Holistic Empowerment and Development Organizer's event, The National Observance of Women's Suffage Movement, 2019, the National Art Gallery of the Bahamas Exhibitions: NE5, 'Refuge' 2019, 'Pulse' in 2020 which are on display at the base of the two bridges heading to the eastern end of G.B. The Transforming Spaces collaboration with UB's Mural of Hope Campaign 2020, is on display downtown Freeport, 'Together is Better', CYPAN Exhibition was held to bring awareness on the rate of violence in the Bahamas, and also the Bahamas Business Outlook 2019 Art, GBAA's small works 2020, and was the featured artist of Festival Noel 2018.
She produces her artwork within the confines of her Grand Bahama Wood Roses Studio, and fortunately, her art studio is slowly undergoing renovations after its complete destruction by Hurricane Dorian. She creates works which capture the beauty, people, culture and events of the place she calls home.
I appreciate the opportunity to tell you a little about myself and my artistic journey of  Transforming Paper Discards into Wall Sculptures.
When I transitioned from a corporate background in Canada to an artistic lifestyle on Grand Bahama Island, my eco upbringing had a problem adding the paper waste produced by my career and my family to the local dump.
I needed to take action.
Web surfing led me to the ancient art form of hand paper making that began in China in 105 AD.   And although paper making is now industrialized, the original process is kept alive by me and other global artists who enjoy lessening their carbon footprint creatively.
In 2004 I opened Adagio Art Studio and Gallery in East Grand Bahama and we enjoyed welcoming guests to experience how I married the eons-old techniques of the ancient art of hand paper making with the magic of today's technology.
Well,  as we know, in September 2019 our quiet island was hit by hurricane Dorian that destroyed our home and my Adagio Art Studio and Gallery.
However We, and our beautiful island are slowly working our way to a bright new future.
I continue to indulge my passion for transforming paper discards into artistic creations that can be viewed  online at delfoxton.com  and at the new island location of Adagio Art Studio and Gallery.
"As a writer and ceramic artist, my message in clay often echoes the themes that inspire my writing: the importance of connectedness with self, with others, and with nature." Born in The Bahamas, Lisa Codella spent her childhood in the capital city, Nassau, where she first encountered a love for working with ceramics at 12 years old. An alumna of The College of The Bahamas and the University of Miami, she spent over 20 years as a corporate public relations and marketing practitioner until finally deciding to shed all fears, embrace her creative calling, and fall hands first into her love of clay. Today, she is a full-time artist in Grand Bahama, where she balances her time between her home studio, 143 Pottery, and her retail outlet for her ceramics and other handmade Bahamian gifts, Coastal Mojo. "My hope is that more people will embrace a reality that understands that the ideal approach for unity in this world is not to make everyone the same, but to acknowledge and respect all of our differences. Balance is only achieved through providing equal weight to seemingly opposing forces. I believe that the more we share our stories, understand each other, and expect rather than fear differences, the more we will see a shift in our personal energy and a restoration of balance to this planet that we share." Lisa Codella's creative practice is inspired by what she calls "the perfect imperfection of Nature" and by the history and legends of The Bahamas. Her ceramic work often reflects this wabi sabi approach to life through the use of asymmetry, flowing lines, or raw edges. The underlying conversation that runs through her work is consistently a call to appreciate the beauty of our unique idiosyncrasies. "Whether Arawak, European or African, all of these influences come together to make us who we are as Bahamians. I strive to embrace them all and appreciate them as fully as I can. I hope to express this appreciation through my art and begin a conversation that is rooted in my belief that our differences can and should be opportunities for connection rather than definitive boundaries of separation."
Denzel Lightbourne also known as "Lightburnz" is a Bahamian born contemporary visual artist and designer who lives and works in Freeport, Grand Bahama. At a very early age, he gained artistic inspiration from drawing his favorite cartoons, movies, musical artists and even some of his own fictional stories. That would later grow into a love of the visual arts. Anything involving art, Lightburnz has probably dubbed or mastered the skill, but his most important skill to him is his painting.
 His paintings are colorful and expressive, his subjects have an exaggerated composition and are often placed in fictional scenarios, paying homage to his country. With a distinctive personal style, whether it's digital or traditional, his work emanates childlike wonders and expresses the vibrant spirit and atmosphere of Bahamian & Caribbean culture.
His work is inspired mostly by the things his people in The Bahamas experience. He captures the livelihood of a Caribbean native in a comedic but conscious and lighthearted way.
The self taught artist has been shown in several exhibitions in The Bahamas and the U.S., including "Stranded" his first solo exhibition, and shows in Philadelphia, PA, Miami, FL and Columbus, OH. He's had success with digital art and NFTs, in 2021 He sold a number of NFTs making him the first artist from the Bahamas to list and sell an NFT.
Laurie is an American artist who divides her time between adopted homes in Grand Bahama and Edinburgh, Scotland. Her subject is people, their stories and relationships to place and time within their natural environment.
She interprets her own emotional and visual response to these everyday events through paint, vivid color and bold brushwork.  Her choice of a closely cropped composition is a hallmark of her work as is her desire to capture a sense of wherever is home for her at the time .
 Laurie's interest is not in accuracy or proportions but in catching a fleeting sense of the multiplicity of lived experiences she finds around her.  Strong colour and simplified form is used to convey her deep  interest  in  human emotion.
Her work has  been exhibited and  collected since 2014.   She recently attended the Virginia Center for the Creative Arts as the Harry D Forsyth Fellow of 2021.
Maquelle Monroe  (born 1987, Nassau, The Bahamas) is an established multimedia artist and art teacher in Freeport, Grand Bahama. Monroe began her career as a painter and her practice is moving into the world of sculpture and 3d art of many sorts.  Her love for art led her to the classroom in which she shares her self-taught knowledge with young aspiring artists.  Most of her studies in college were related to nursing, but her love for art led her away from medicine and back to the art supplies as art was always her first love.
Murals are her specialty and some of her work can be seen at public places such as the Charles Hayward Library, Emera Carribean Baseball Park, Eight Mile Rock and West End just to name a few.  She also specializes in working with joint compound,  clay, plexiglass, and resin.
Chantal E.Y. Bethel is a mixed media artist whose practice encompasses painting, sculpture, installation and assemblage. She is known for her use of the kroma crackle, a medium that creates a shattered texture and is, for her, a metaphor of life. Bethel's art celebrates the various cultures she has experienced, and reflects the spirituality that is evident in her craft.
Born in Haiti, educated in Belgium, Bethel's diverse background is a key foundational influence for the complex and multilayered artworks that reflects her story. She has lived on Grand Bahama Island for most of her adult life.
Chantal Bethel came to her artistic practice later in life—after a long career in medical management. She studied under mentors such as Bahamian artist Antonius Roberts and American Watercolorist Jeanne Dobie. She furthered her education at Haliburton School of Art and design in Canada, Fines Arts Work Centre in Provincetown, Massachusetts and the ArtWay Studios in Vancouver, British Columbia.
In 2010, she received an award for her painting Requiem for Haiti at a juried exhibition in Washington D.C. In 2015 she was the selected artist for the International World Day of Prayer.
A featured artist at the National Art Gallery of The Bahamas' National Exhibitions in 2003, 2004, 2006, 2008 and 2022, she mounted a solo exhibition in the Project Space of the NAGB (2016).
Outside of the Bahamas, her work has been exhibited in Belgium, France, Canada, USA (Chicago, New York, Fort Lauderdale), Cuba, China and United Arab Emirates.
Her work is in private and corporate collection at home and abroad, including The Waterloo Centre for the Arts museum in Iowa, USA, The Dawn Davies Collection and the D'Aguilar art Foundation in the Bahamas.
Benjamin Ferguson Jr was born on Grand Bahama Island, The Bahamas in 1987. Born in the isles of sun, sand, and sea Ferguson's quaint island upbringing would set the stage for a lifetime of visual artistic expression. Early on, Ben was captivated by the paradisiacal nature of the world around him. Inspired by more than just the scenery Ben became drawn to the vibrant energy of the people around him and through his art set out to tell their stories. The stories of generations of people with a rich cultural history and more specifically the stories of an island nation finding its place in our constantly changing world while holding on to simpler times.
Since his start as an amateur artist, Benjamin has seen his work evolve into collections that have sparked national conversations and spurred meaningful cultural dialogue all while receiving local and international accolades.
As an award-nominated visual artist, Ben has mastered the ability to tell his stories across multiple disciplines, working in mediums from acrylics to ceramics. In addition to receiving both newspaper and television coverage from the like of the Tribune Newspaper, The Broadcasting Corporation of The Bahamas and The Freeport News, Ben's work has been exhibited at galleries across the country including the famed Gloria Banks Gallery on Grand Bahama Island, The Sheldon Saint Gallery, The Salus Gallery, the renowned Central Bank of The Bahamas Gallery and The National Art Gallery of The Bahamas. Ben's work has been featured on The International Monetary Fund's Finance and development magazine. His contributions to the Bahamian art community now extend to the furtherance of the creative culture around the country, the region, and the world. He has been a part of the Caribbean Culture Fund (CCF) Feasibility Study's round table discussing matters of Art and Social Transformation, as well as UNESCO's Intangible Cultural Heritage Round Table for Grand Bahama and participated in UNESCO's Creative Tourism workshop as a Bahamian representative. He is also a member of the Bahamas Tourism Development Corporation's Creative Council. After receiving his AA of Arts and B. Ed. Art K-12 from The College of The Bahamas, Ben has dedicated his life to the next generation of Bahamian artists. In addition to serving as the President of the Grand Bahama Artists Association and a member of The, he dedicates his days to teaching and mentoring art students at the Jack Hayward Senior High School
Born in Canada, Bahamian artist Claudette Dean has lived in Freeport, Grand Bahama, since 1979. She received a BA in French Literature from the University of Windsor, Windsor, Ontario, Canada, and continued her studies in French Literature at the University of Nice in the south of France. She completed further studies in art at the Fine Arts Work Center, Provincetown, Massachusetts. Benefitting from the tutelage and mentorship of Bahamian artist Antonius Roberts, she started working as an artist in the early 1990's.
She exhibited her work at her first solo show Across A Sea Of Dreams (2006) at the museum in her hometown in Canada to celebrate the town's 100th anniversary. She was the 2008 recipient of the Commonwealth of the Bahamas Award for outstanding achievements in the realm of Fine Arts from the Bureau of Women's Affairs in Freeport, Grand Bahama.
Dean and artist Chantal E.Y. Bethel organized, Freedom Call (2007), a memorable exhibition and cultural event in Grand Bahama, to commemorate the 200th anniversary of the Abolition of the Transatlantic Slave Trade. They also participated together in the Love My Bahamas Downtown Art Experience (2010) with their mural on Bolam House, George Street entitled A GRAND Bahama Vision.
Her solo exhibitions include Lumiere (2006) at the Freeport Art Centre, Inner Sanctum (2010) at Popopstudios, Nassau, and Beautiful Burden (2014) at Hillside House, Nassau. She has participated in numerous group exhibitions at various galleries at home and abroad, including Compassion, Creativity, and Courage (2016), Porter Mill Gallery, Beverly, Massachusetts, BahamArt En Seine.(2017) French Arts Factory, Rue de Seine, Paris, France, Transforming Spaces (2020) at Doongalik Gallery, Nassau, Between Heaven and Earth (2021), D'Aguilar Art Foundation, Nassau, and Overhead Bin (2022) The Current @ Bahamar, Nassau.
Dean has been a featured artist in numerous juried and non juried exhibitions at The National Art Gallery of the Bahamas most recently NE10 MERCY (2022), and in 2005 a piece of her work was acquired for The National Collection of the Bahamas.
Among other publications, she has been a featured artist in four of the WomanSpeak journals, most recently in 2016, and twice as the cover artist 2010 and 2014.  In 2010 she published Inner Sanctum, a collection of her poems and artwork from her solo exhibition of the same name, and in 2018 published a debut novel Smelling Roses - a Tale of Connection and Transformation. Working primarily in acrylics and mixed media, she describes her spiritually based work as modern mystical.
My name is Eva von Albedyhll.
I was born 1954 in Germany. After finishing all the lower grade schools I went to university to study to become a school teacher.
I married my husband Peter von Albedyhll 1977. We had our first set of children a pair of twins that same year and left for Freeport in 1980.
Right from the start we learned about the time share business and started our first resort Bahama Reef
A few years later we bought the unfinished resort Ocean Reef Resort and also completed it into a flourishing time share resort.
1995 and 1997 we had our second set of children who were born in Freeport.
I retired from our time share business in 2006 and started to find my love for painting in 2017.
I am self taught and spend quite a number of time in my little art studio.
Jemoniquc Bamabie is a female interdisciplinary artist from Freeport, Grand Bahama, who began her artistic journey at a very young age. She began drawing sketches as soon as she was able to hold a pencil and set her intention to continue to cultivate her skill. Along the way, she also expressed interest in music and other creative outlets, leading her to become very well•rounded as a budding an prodigy. She credits much of her development to her teachers, art, music and otherwise, who encouraged her to balance her pursuit of her passions while maintaining her academic focus. After 14 years of attending the institution, she graduated from St. Paul's Methodist College as the valedictorian. In 2016, she moved to Miami to pursue her Bachelor of Arts in Music at Florida Memorial University. During her lime there, she continued to pursue her other artistic interests outside of her degree program. In December 2016, she had her first solo art exhibition which launched her name into the local art community as a "new face" to look out for, focussing her craft on realistic pencil drawings, still life and landscape paintings. Throughout her years. she was blessed to be able to host "Sip and Paint" events both in Miami and locally in Grand Bahama during her breaks. She has also had work featured in publications such as The Freeport News, VoyageMia and The Miami Times. In 2017 and 2020. she was afforded the opportunity to model and have her art featured in exhibitions during An Basel week in Miami Beach. Before completing her degree program, she also explored other artistic ventures and performing opportunities, dabbling in henna designs, portrait photography, pageantry and solo vocal performances. She won pageant titles, namely, Miss Bahamian Connection, Miss Black and Gold and her university's title, Miss Florida Memorial University. Upon graduation in 2020, she continued to work within her field in Jacksonville, FL as a senior sales associate, selling musical instruments and accessories at Music and Arts. During this time, she continued working on paintings and drawings as she prepared for her return home to Freeport. GB. Currently, she resides there and since her return, has thrown herself into the Grand Bahama art community, where she has been teaching Music and Art at an elementary level. She also prides herself in her contribution to the community by teaching free art classes and holding photography workshops as she continues to develop her personal portfolio. As she progresses in her craft. she has found comfort in her niche of realism through pencil drawn portraits and landscape paintings. as well as portrait photography. She hopes that by God's grace, she can continue to develop her skill to the point of mastery.
Cali Veilleux grew up on a small Island, off the coast of Maine.
After receiving a talent award for her creative expression, at the age of 50, Cali attended the Maine College of Art. After 2 years as a student, Cali realized this platform of education was not the inspiration or the style of education she was seeking.
Hoping to find her way and expand her artistic education she began seeking out and painting with artists she admired.
Today, Cali lives in Maine, on Sprucehead Island. Her home, studio, and gallery, "Seaside Gallery", are surrounded by her lovely gardens, beside the ocean. She spends her Winters on the Island of Grand Bahama.
Cali's paintings reflect her knowledge and passion for the natural world and its vast array of flora and fauna. Her canvas' visualize her passion for storytelling, hoping to connect the viewer to her world of color and creation.
Cali sells from her private gallery, off her easel, and through platforms such as Facebook or Instagram. She excepts commissions, hoping to capture her clients desires on her canvas.
American textile artist, Jo Morasco, studied design at the University of Kansas, She shares her time between Lawrence, Kansas, and Grand Bahama Island, where she creates and exhibits her work. Jo Morasco's visual language bears the traces of her extensive travel around the world. Her passion for patterns of ethnic textiles, as well as her observation of nature and the ill effects that industrialization has formed the basis for much of her recent work. Her rich and complex woven compositions are also inspired by floral and animal elements. They often reference the ecologic damage to the urban and aquatic environment.
www.tapestrybyjo.com
Danielle Rahming was born in Grand Bahama, Bahamas in 2004. She is a self-taught creative young woman who loves to make people smile.
After being diagnosed with Dyslexia at the age of seven, she and her mother began their homeschool journey. She soon discovered that working with molding clay and paints not only helped her with letter and word recognition but also provided her with hours of creative expression. Her natural talent and eye for detail quickly blossomed into more than just a hobby.
Danielle's artistic interests include sketching, sculpting, and digital art...but without a doubt, her passion is acrylic paintings with a focus on emotions and the human experience. She enjoys connecting with others who can understand emotions expressed through art.
She cannot imagine her life without her art, and over the past 10 years, Danielle has evolved into a confident, driven young artist looking to make her mark in the creative community. Her pieces can be seen around the Bahamas and Internationally.
Thank you for supporting this young local artist.